2016 Mazda2 Is Arriving
February 01 2016, Agincourt Mazda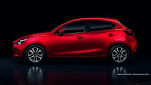 The 2016 Mazda2 is an all-new model that for the first time brings the KODO - Soul of Motion design language and the SKYACTIV suite of technologies to the sub-compact market.
It brings best-in-class handling, styling and connectivity to the segment and promises to redefine what Canadian consumers can expect from a sub-compact vehicle.

Slightly bigger all-round, the 2016 Mazda2 gains 6.3 inches in length to 160 inches, picks up 1 inch in height to 59 inches, while its wheelbase stretches 3.1 inches to 101.2 inches. Width remains unchanged. Now when you consider the new 2 is a bigger car with significant new technologies, a curb weight gain of 88 lbs (up from 2182 lbs to 2270 lbs) is more than acceptable. The bigger body delivers more leg- and headroom, as well as all-round visibility thanks to a larger windshield and A-pillars that shift 3.9 inches further forward.
On the road, the Mazda2 picks up where the 3 and 6 left off. Mazda2 chief engineer Ayumu Doi says that higher trailing arm mounts for the torsion-bar rear-end improve ride comfort and low- to medium-speed stability. In addition, caster angle has been laid back 1.7 degrees to improve straight-line stability. Mazda claims that, in combination with the longer wheelbase, reduces pitching under braking and flattens out the car in corners. We found, however, that the 2 still delivered as much body roll as its predecessor.

The old Mazda2 delivered sharp steering with plenty of feedback. The new 2 follows in those footsteps, although we wonder about Mazda's choice of Yokohama Blue Earth eco tires. Equipped with them, it turns in well at speed but does feel slow and lacks feedback. A change of rubber would likely address this. The eco tyres generate good mileage but reduce feedback and steering feel and do not allow the car to reach its full potential. The lower grip levels mean the car has a tendency to understeer when pushed. In fact, these tires left us wondering how much better the car would corner with grippier rubber. In fact, we asked whether we could test the car with different tires, but none were available. Shame really, because the 2 would likely have revealed a different personality.
Mazda has put a lot of effort into lifting the 2's dynamics, design and quality levels to bring it in line with Europe's class-leaders. With a totally new, stylish look, new engines, sporty handling and improved trim levels, Mazda has placed it in the same playing field as its competition.