2017 Mazda Dealer of Distinction Award
January 06 2019, Agincourt Mazda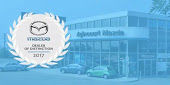 We are extremely pleased to announce that Agincourt Mazda, your favourite Mazda Dealership, has been awarded with the 2017 Mazda Dealer of Distinction Award. With today's customers being increasingly knowledgeable and expecting nothing but the best experience, our staff takes immense pride in exceeding their expectations.
Mazda Canada's annual Dealer of Distinction Awards Program has been in place since 1993 and is used to measure the effectiveness of all areas of operation at every Mazda Dealership. Quantifiable data from areas such as sales, service, administration, and facilities are thoroughly evaluated. The Dealer of Distinction program recognizes dealers who have excelled in these areas and more.
It's a great honour for us at Agincourt Mazda to have received this award and we will strive to continue our efforts in providing our customers the best experience possible!