Next-Gen Mazda SKYACTIV Engines Could Be Cleaner Than EVS
April 23 2014,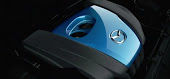 Can a gas-powered car be cleaner than an electric vehicle? Mazda thinks so, claiming the next-gen of SkyActiv engines will emit fewer emissions than EVs. And they could do it, if you look at the entire well-to-wheel emissions picture, through the use of super-efficient engines and mild hybrid systems that do away with heavy battery packs.

Not to take anything away from Mazda's excellent line of SkyActiv gasoline engines. These super-efficient motors use high-compression, direct injection, and other fuel-saving technologies to improve MPG, with the added benefit of extra Zoom-zoom as well. These high-tech engines have given Mazda the most fuel-efficient line of cars in America. Engineers are aiming for diesel-like fuel economy from its gasoline engines, and Gen 2 SkyActiv will up the ante further.

Where the current SkyActiv engines have a compression of 14:1, the next generation will approach 18:1 compression (until recently, most gasoline cars had single-digit compression ratios). Combined with friction-reduction technology and further improvements in fuel delivery, these improvements will lead to a 30% boost in thermal efficiency and fuel economy. Mazda claims it can bring well-to-wheel vehicle CO2 emissions, of an unspecified "average" Mazda, down to just 80g/km.

Beyond that, the Gen 3 SkyActiv engines will utilize further-improved mild hybrid and super-capacitor systems that draw almost no energy from the engines, while dropping emissions down to just 60g/km. By taking batteries out of the equation, these vehicles will be lighter and thus more efficient. With the hybrid system active, well-to-wheel emissions could be just 50g/km, equivalent to the Mazda2 EV. That's making assumptions about the EV's power source, however, and with the increasing popularity and efficiency of solar panels, a truly zero-emissions electric vehicle is no longer a fantasy.

For more information on the game-changing 2014 line-up with revolutionary SKYACTIV technology, take advantage from MAZDA'S "GET IT IN GEAR" Sales Event at Agincourt Mazda today! Call us at 877-894-5483 to chat with one of our Product Specialists to find out how much you can SAVE!